Welcome to Santa Fe, the ultimate destination for indulgence and relaxation. Nestled in the heart of the United States, this enchanting city offers a plethora of opulent wellness retreats that will leave you feeling rejuvenated and renewed. In this guide, we will take you on a blissful journey through the luxurious world of spa hotels in Santa Fe.
Prepare to be captivated by the serene ambiance and breathtaking landscapes that surround these havens of tranquility. Immerse yourself in nature as you unwind in an oasis of serenity, where soothing treatments await your arrival. Whether it's plunging into mineral-rich hot springs or surrendering to a therapeutic massage under cascading waterfalls, Santa Fe's spa hotels offer an array of experiences tailored to revitalize your mind, body, and soul.
Discover the healing power of ancient traditions fused with modern techniques at these luxurious sanctuaries. From holistic therapies inspired by Native American rituals to cutting-edge beauty treatments utilizing organic ingredients sourced from local farms– each spa hotel in Santa Fe promises an unparalleled sensory experience. Soothe your senses with aromatic herbal baths or embark on a spiritual journey with yoga sessions overlooking stunning mountain vistas.
Join us on this captivating exploration as we unveil the hidden gems that make Santa Fe a coveted haven for those yearning for pure bliss and well-being.
The Best Santa Fe Spa Hotels
Hyatt Regency Tamaya South Santa Fe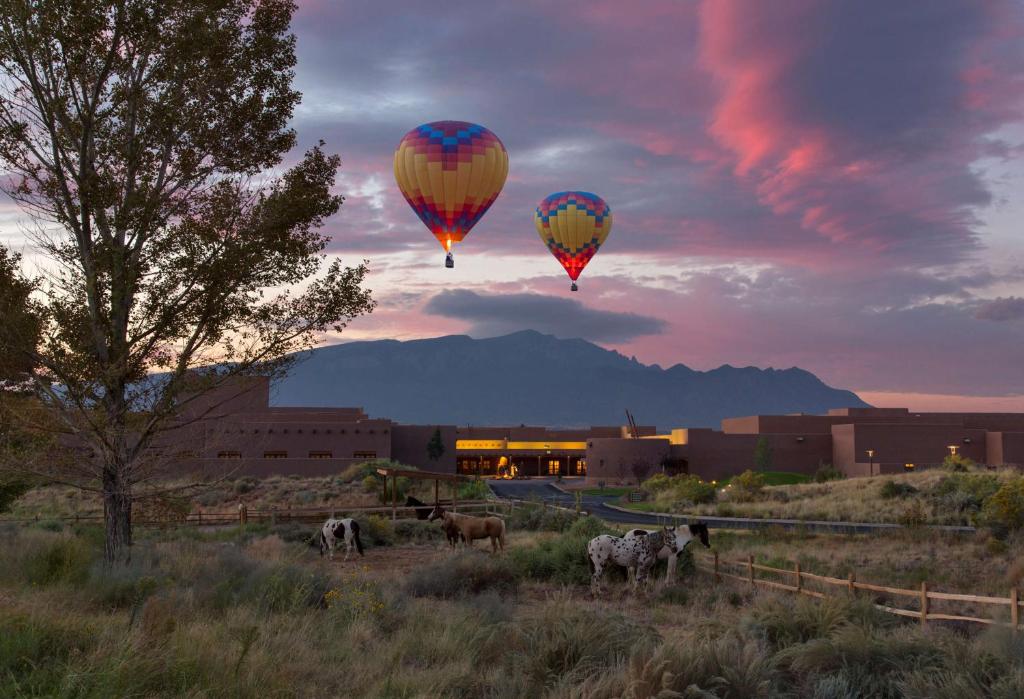 The Hyatt Regency Tamaya South Santa Fe is a luxurious resort located just 30 minutes' drive from Albuquerque Airport. The resort features four restaurants, including the Santa Ana Café which offers delicious New Mexican cuisine for breakfast, lunch, and dinner. Guests can also enjoy dining at the Corn Maiden restaurant or the Rio Grande Lounge. The resort boasts a championship golf course on-site and offers free Wi-Fi in all rooms. Each room includes modern amenities such as a flat-screen cable TV, work desk, iPod docking station, and coffee-making facilities. The en suite bathrooms are equipped with hairdryers. Guests can relax in two outdoor seasonal pools and one outdoor year-round pool or pamper themselves with a treatment at the full-service spa. For nature lovers, the Rio Grande Nature Center State Park is located just 24 miles away while those interested in art and history can visit the Albuquerque Museum of Art and History which is only 30 minutes' drive from the resort.
– Convenient location just 30 minutes' drive from Albuquerque Airport
– Four on-site restaurants offering a variety of cuisines
– Championship golf course for golf enthusiasts
– Multiple outdoor pools to relax and unwind
– Full-service spa for ultimate relaxation
La Posada De Santa Fe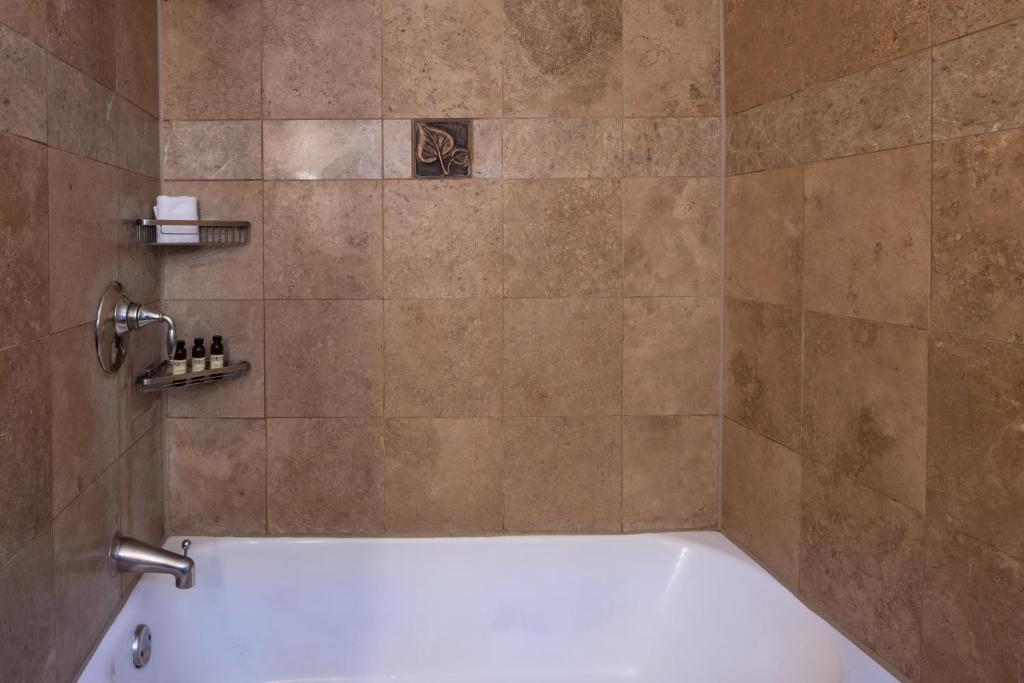 La Posada De Santa Fe Resort is a luxurious spa hotel located in the heart of Santa Fe, New Mexico. This resort offers guests a range of amenities including an outdoor swimming pool, a spa, and four restaurants on-site. The hotel is conveniently situated within a short walking distance of Santa Fe Plaza and the renowned art galleries on Canyon Road. The rooms at La Posada De Santa Fe are elegantly designed with adobe-inspired decor, featuring dark wood furnishings, plush linens, and tasteful period accents. Guests can relax in the poolside hot tub or work out at the fitness center. The resort's dining options include The Patio which serves a classic mix of American Fusion and Northern New Mexican Cuisine for breakfast, lunch, and dinner; Fuego offers fine dining options; while Staab House specializes in signature cocktails and light dining choices. With its prime location and exceptional amenities, La Posada De Santa Fe Resort is an ideal choice for those seeking a luxurious spa retreat.
Pros:
– Outdoor swimming pool
– On-site spa facilities
– Four restaurants serving diverse cuisines
– Convenient location near Santa Fe Plaza and art galleries
– Elegant rooms with adobe-inspired decor
Eldorado Hotel and Spa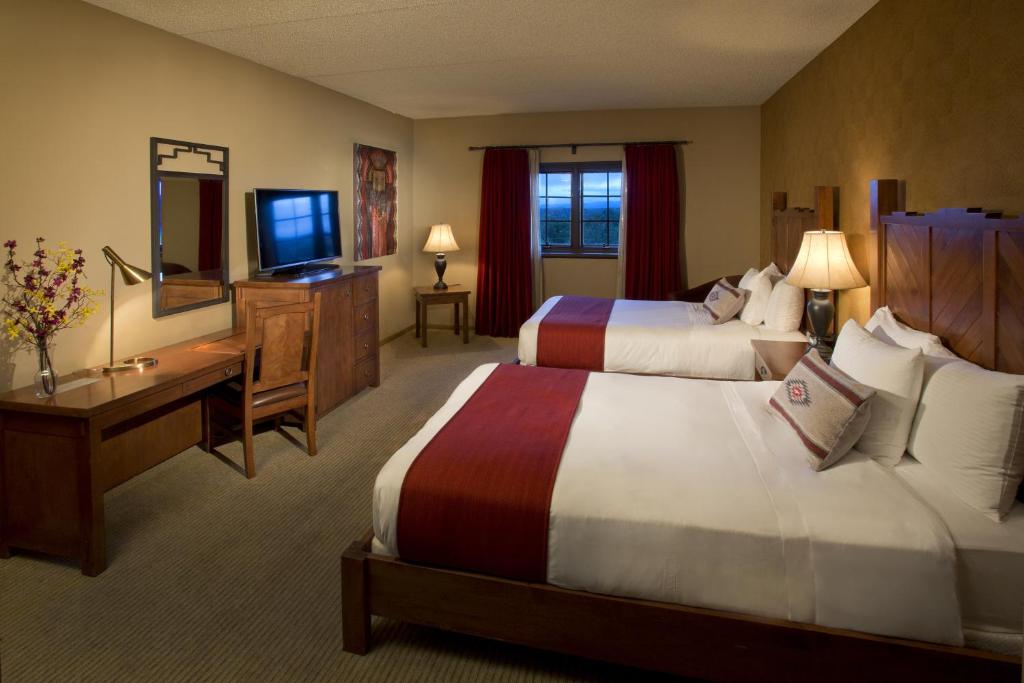 Located just a short stroll from the historic Santa Fe Plaza, Eldorado Hotel and Spa is a luxurious hotel in New Mexico that offers an array of amenities for guests to enjoy. The highlight of the hotel is its full-service Nidah Spa, where guests can indulge in revitalizing treatments and therapies. The hotel also boasts an inviting rooftop heated pool, perfect for relaxing while taking in panoramic views of downtown Santa Fe. The rooms at Eldorado Hotel and Spa are beautifully decorated in pueblo revival style and feature handcrafted native furniture and art. Each room comes equipped with modern amenities such as a flat-screen cable TV, iPod docking station, and work desk. Guests can dine at the on-site Agave Restaurant & Lounge which serves innovative cuisine made with local ingredients or enjoy live music at the Eldorado Lounge on Thursday through Saturday evenings. With its prime location near attractions like the Georgia O'Keeffe Museum and the New Mexico Museum of Art, Eldorado Hotel provides easy access to explore Santa Fe's vibrant cultural scene. Additional amenities include free Wi-Fi throughout the hotel and a 24-hour business center.
Pros:
– Full-service spa offering rejuvenating treatments
– Rooftop heated pool with breathtaking city views
– Stylishly decorated rooms featuring handcrafted native furniture
– On-site restaurant serving innovative cuisine using local ingredients
– Close proximity to popular museums and attractions
Other places to stay in Santa Fe
Spa Hotels in Downtown Santa Fe
Spa hotels in Downtown Santa Fe offer a serene and rejuvenating experience for guests, providing a perfect escape from the bustling city. With their luxurious spa services and tranquil atmospheres, these hotels are the ultimate destinations for relaxation and pampering.
The Hacienda & Spa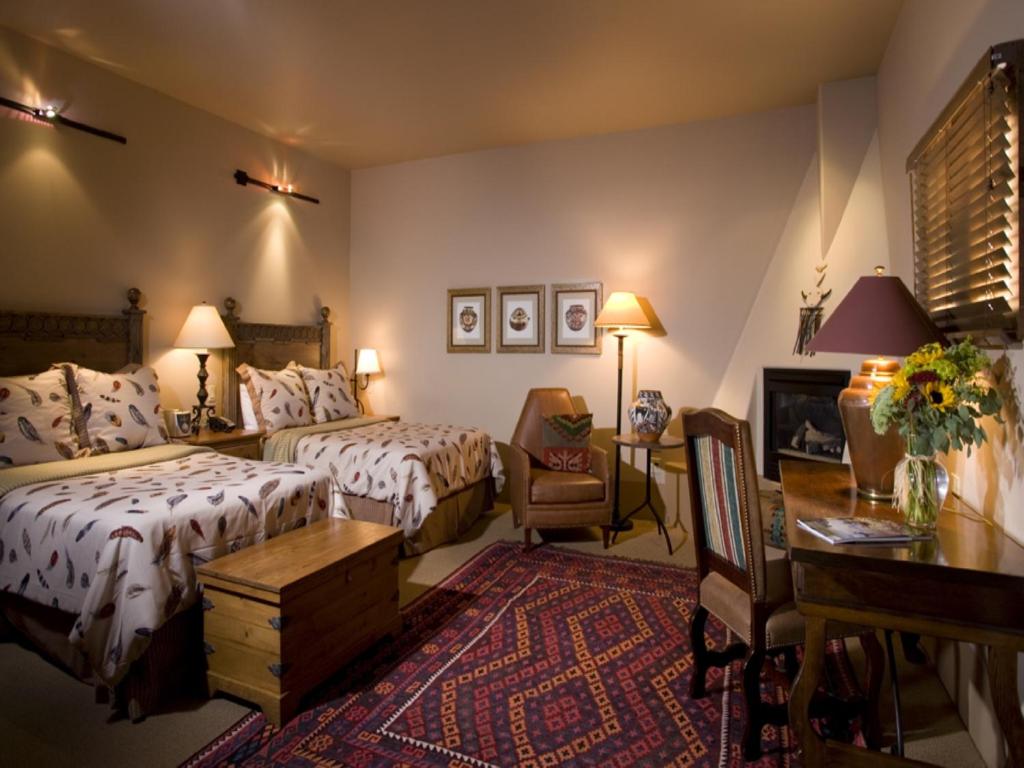 Located on 4 secluded acres in Santa Fe, New Mexico, The Hacienda & Spa offers unique guestrooms adorned with beautiful Native American art. This luxury hotel also provides access to a serene spa where guests can relax and unwind. In the evenings, a delightful wine and cheese reception awaits. Guests staying at The Hacienda will have the added benefit of enjoying the spa facilities and dining at Amaya Restaurant located at its sister property nearby. The guestrooms are thoughtfully designed with cozy fireplaces and spacious seating areas, creating a warm and inviting ambiance. To enhance their stay, professionally trained butlers are available to cater to any request. After indulging in a soothing massage or delectable meal, guests can venture out to explore the rich history of Santa Fe.
Pros:
– Beautifully decorated guestrooms featuring Native American art
– Access to a relaxing spa for ultimate rejuvenation
– Enjoyment of wine and cheese reception each evening
– Availability of professionally trained butlers for personalized service
– Convenient proximity to historic attractions in Santa Fe
Hotel Santa Fe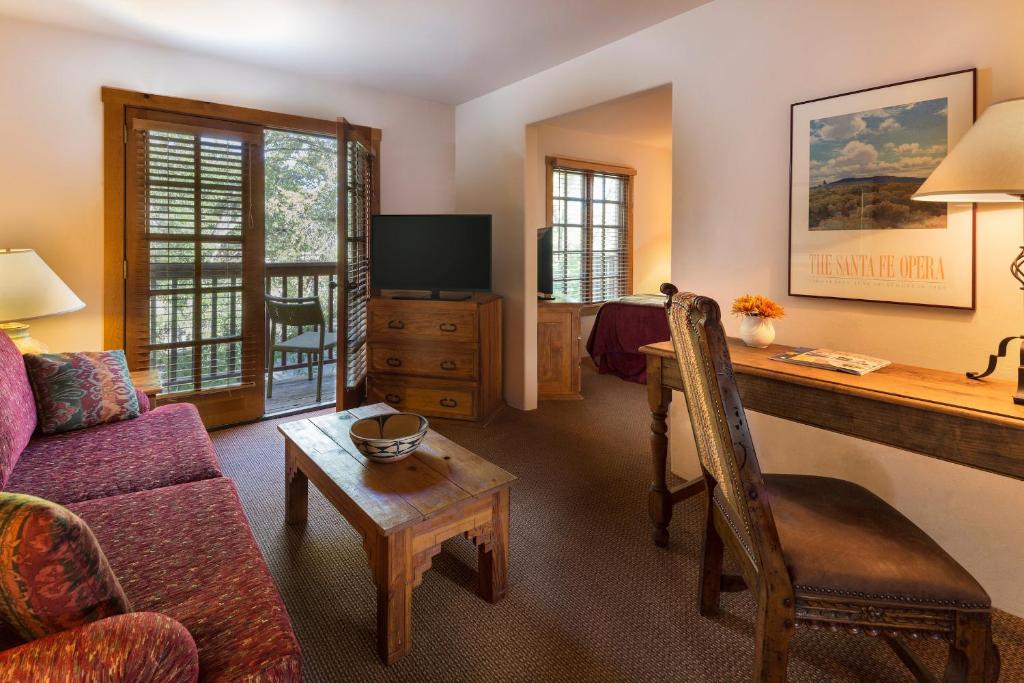 Hotel Santa Fe, located in Santa Fe's Railyard District, is a Native American-owned hotel that offers a luxurious and relaxing experience for its guests. With on-site spa services and gourmet dining options, this hotel ensures a truly indulgent stay. Free WiFi is provided throughout the property. The hotel features an outdoor pool and hot tub, as well as beautiful outdoor gardens to explore. For an authentic cultural experience, guests can enjoy on-site ceremonial dance performances and historical storytelling. The on-site gift shop also offers hand-made crafts for guests to take home as souvenirs. In the evenings, guests can unwind around the outdoor fireplace while listening to live Native American music. Amaya Restaurant serves delicious Native American-inspired cuisine, while Amaya Bar offers a variety of cocktails to enjoy. Historic Santa Fe is only a 5-minute drive away from the hotel, making it convenient for guests who wish to explore the city's rich history and attractions.
– Outdoor pool
– On-site spaservices
– Gourmet dining options
– Cultural experiences: ceremonial dance performances and historical storytelling
– Proximity to historic Santa Fe attractions
Information about Spa Hotels in Santa Fe
| | |
| --- | --- |
| 🛏️ Spa Hotels in Santa Fe | 5 |
| 💵 Hotels Prices From | $192 |
| 💰 Average price | 161 |
| ⭐ Number of Hotels Reviews | 291 |
FAQ
Can you recommend a luxury spa hotel in Santa Fe?
Absolutely! One highly recommended luxury spa hotel in Santa Fe is the renowned "Ten Thousand Waves". This beautiful Japanese-inspired retreat offers a variety of unique spa treatments and services, including hot stone massages, herbal baths, and traditional Japanese kaiseki cuisine. With its serene atmosphere and breathtaking views of the surrounding mountains, Ten Thousand Waves is the perfect destination for those seeking relaxation and rejuvenation.
Are there any eco-friendly spa hotels in Santa Fe?
Yes, indeed! The "Sunrise Springs Spa Resort" is an exceptional eco-friendly spa hotel nestled amidst 70 acres of stunning natural landscapes. This sustainable resort places a strong emphasis on wellness and offers a wide range of holistic treatments to nourish the body and soul. From natural hot spring soaks to organic farm-to-table dining experiences, Sunrise Springs Spa Resort provides guests with an environmentally conscious escape that promotes harmony with nature.
What are some popular activities offered by spa hotels in Santa Fe?
Spa hotels in Santa Fe offer an array of popular activities to enhance your stay. Apart from indulging in luxurious spa treatments like massages, facials, and body wraps, many properties also provide yoga classes or meditation sessions for inner peace and mindfulness. Additionally, you can enjoy outdoor activities such as hiking or horseback riding amidst the picturesque landscapes surrounding these hotels. Whether you prefer to relax indoors or explore nature's beauty outside, there's something for everyone at Santa Fe's spa hotels.
Do all spa hotels have fitness facilities?
While not all spa hotels have full-fledged fitness facilities on-site, many do offer some form of exercise amenities to cater to their guests' needs. Some may feature fully equipped gyms with state-of-the-art equipment where you can engage in workouts or hire personal trainers for customized fitness guidance. Others might provide access to nearby fitness centers or arrange outdoor activities like guided hikes or yoga sessions. It's always advisable to check with the specific spa hotel beforehand regarding their fitness offerings.
Are there any budget-friendly spa hotels in Santa Fe?
Yes, if you're on a budget but still want to enjoy a spa retreat in Santa Fe, there are several affordable options available. The "Inn and Spa at Loretto" is one such hotel that offers reasonable rates without compromising on quality. With its cozy accommodations and a relaxing spa featuring various treatments, guests can experience the tranquility of a spa getaway at a more affordable price. Additionally, keep an eye out for special promotions or off-peak deals offered by other luxury spas in Santa Fe as they may offer discounted packages from time to time.
Popular Spa Hotels destinations