Welcome to the dazzling city of Dubai, a destination renowned for its opulence and grandeur. Nestled within this bustling metropolis are some of the most luxurious wellness retreats in the world – spa hotels that redefine relaxation and rejuvenation. Situated amidst a desert oasis, these havens offer a sanctuary where tranquility meets indulgence, allowing you to unwind and pamper yourself like never before.
Dubai's spa hotels are synonymous with extravagance and sophistication. Immerse yourself in a haven of serenity where every detail is meticulously curated to provide an unforgettable experience. From lavish treatment rooms adorned with sumptuous fabrics to state-of-the-art facilities offering an array of holistic therapies, these retreats cater to your every whim. Indulge in exquisite massages that melt away stress or revitalize your senses with invigorating body wraps infused with local aromatic essences. With their exceptional service and attention to detail, these spas create an ambiance that transports you into a realm of pure bliss.
Discovering Dubai's spa hotels is like embarking on a journey of self-discovery, where wellness intertwines seamlessly with luxury. Whether you seek solitude or wish to embark on a holistic wellness program tailored just for you, these havens cater to all your needs. Escape from the vibrant cityscape as you immerse yourself in traditional Arabian rituals or indulge in cutting-edge techniques that promise transformative results. Allow yourself the pleasure of being cocooned in plush robes surrounded by breathtaking views as expert therapists guide you towards finding your inner balance.
Intrigued? Join us on this virtual exploration as we delve into the realm of Dubai's sublime spa hotels – it's time for pure indulgence!
The Best Dubai Spa Hotels
Hilton Dubai Al Habtoor City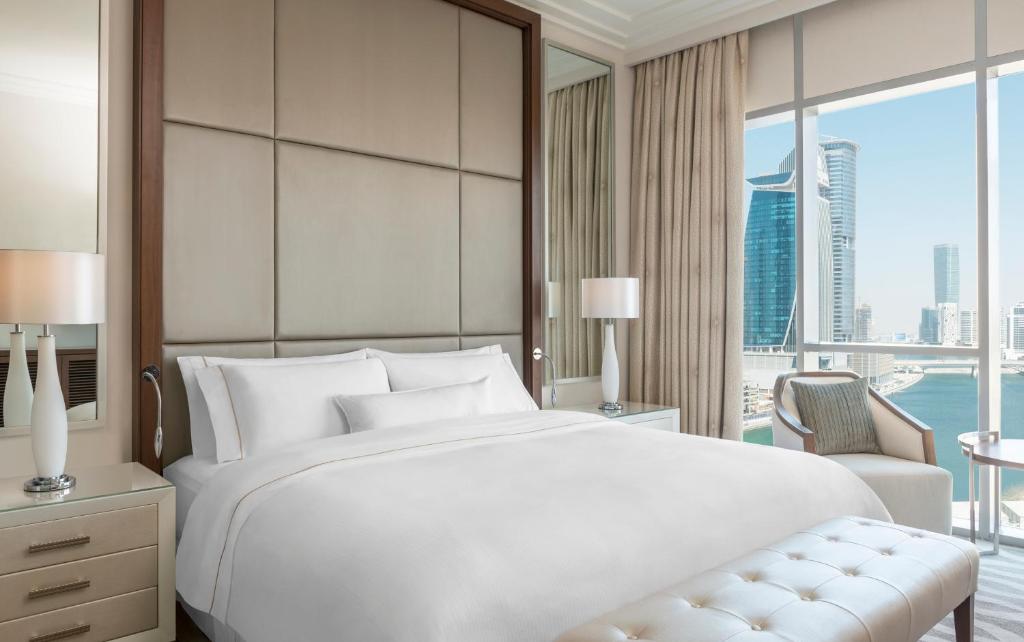 Located in the Sheikh Zayed Road district in Dubai, Hilton Dubai Al Habtoor City is a luxurious spa hotel that offers a year-round outdoor pool and terrace for guests to relax and unwind. The hotel is directly connected to La Perle by Dragone water theater, providing guests with a unique entertainment experience inspired by the spirit of Dubai. With a spacenter and sauna on-site, guests can rejuvenate their bodies and minds. The hotel features beautifully appointed rooms with modern amenities such as flat-screen TVs and coffee machines. There are also interconnecting rooms available for larger groups or families. Guests can enjoy dining at eleven restaurants offering cuisines from around the world, ensuring an exceptional culinary experience during their stay. Additionally, free WiFi and private parking are provided for convenience. The hotel also offers a complimentary shuttle bus service to various beach locations and Dubai Mall.
Pros:
– Stunning location along the Dubai Water Canal
– Direct connection to La Perle by Dragone water theater
– Luxurious spa facilities including a spacenter and sauna
– Eleven diverse restaurants serving international cuisines
– Complimentary shuttle bus service to beach locations and Dubai Mall
Sheraton Mall of the Emirates Hotel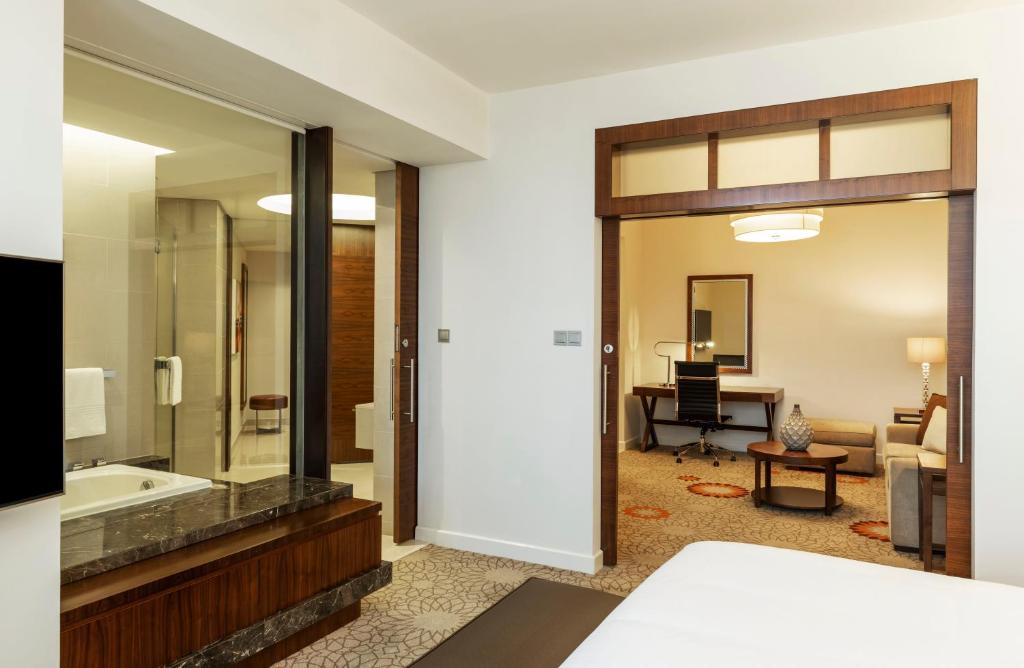 The Sheraton Mall of the Emirates Hotel in Dubai is a luxurious hotel that offers a convenient location, directly connected to the famous Mall of the Emirates. It is just a 20-minute drive from DXB International Airport and Expo 2020 site. The hotel provides free WiFi access throughout the property, including in all of its well-appointed rooms and suites. Guests can indulge in pampering treatments at Shine Spa and make use of the relaxing spa facilities. All accommodations at Sheraton Dubai Mall of the Emirates feature stunning views of the city skyline and come equipped with modern amenities such as flat-screen TVs, minibars, and en-suite bathrooms. Some suites also include living rooms and kitchenettes with dining areas. After an invigorating workout at Sheraton Fitness, guests can take a refreshing dip in the rooftop outdoor pools while enjoying panoramic city views. The hotel also boasts a Spartan terrace where guests can unwind with snacks and beverages while taking in breathtaking vistas. For those looking to explore nearby attractions, Souk Madinat Jumeirah with its romantic water canals is just 4 km away, while ELS Golf Club is within a 7 km drive. With an airport shuttle available upon request, Dubai International Airport is located 26 km from the property. Additionally, free valet and car parking are provided on-site.
– Conveniently located next to Mall of the Emirates
– Free WiFi access throughout the hotel
– Stunning views of the city skyline from all rooms
– Relaxing spa facilities for indulgent massages
– Rooftop outdoor pools with panoramic city views
Sofitel Dubai Jumeirah Beach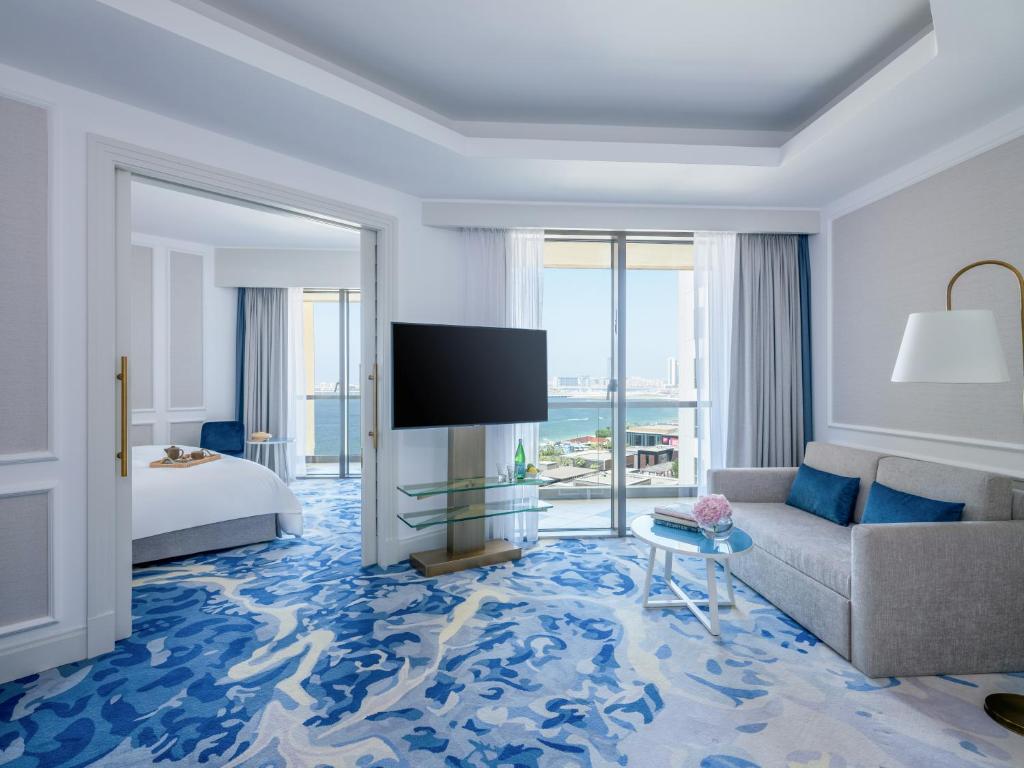 Sofitel Dubai Jumeirah Beach is a luxurious 5-star hotel located in The Walk at Jumeirah Beach Residence. Situated just steps away from The Beach Mall, this hotel offers guests a prime destination for seafront dining and entertainment. With its outdoor pool and free WiFi, Sofitel Dubai Jumeirah Beach provides the perfect setting for relaxation and indulgence. Guests can enjoy nourishing food at the International Buffet and Plantation Brasserie, Bar & Terrace or sip on refreshments while taking in the stunning sea views at the Infini Pool Lounge. The spacious rooms and suites feature modern furnishings, private balconies with views of the Arabian Gulf, flat-screen TVs, Bose sound systems, and minibars. For those looking to stay active during their stay, the hotel boasts a state-of-the-art fitness center and sauna chamber. The knowledgeable concierge team is always available to provide information on tours and excursions. With its convenient location near Dubai Marina, Wild Wadi Waterpark, Mall of Emirates, and JBR 2 tram station just 500 meters away, Sofitel Dubai Jumeirah Beach offers guests easy access to some of Dubai's top attractions. Plus, with free valet parking provided by the hotel, guests can explore everything this vibrant city has to offer stress-free.
– Luxurious 5-star hotel
– Located steps away from The Beach Mall
– Outdoor pool with stunning sea views
– Spacious rooms with modern amenities
– Convenient location near top attractions
Other places to stay in Dubai
Spa Hotels in Downtown Dubai
Spa hotels in Downtown Dubai offer a serene and indulgent escape from the bustling city. With luxurious spa facilities and rejuvenating treatments, guests are pampered with utmost comfort and relaxation in the heart of this urban paradise.
Hilton Dubai Jumeirah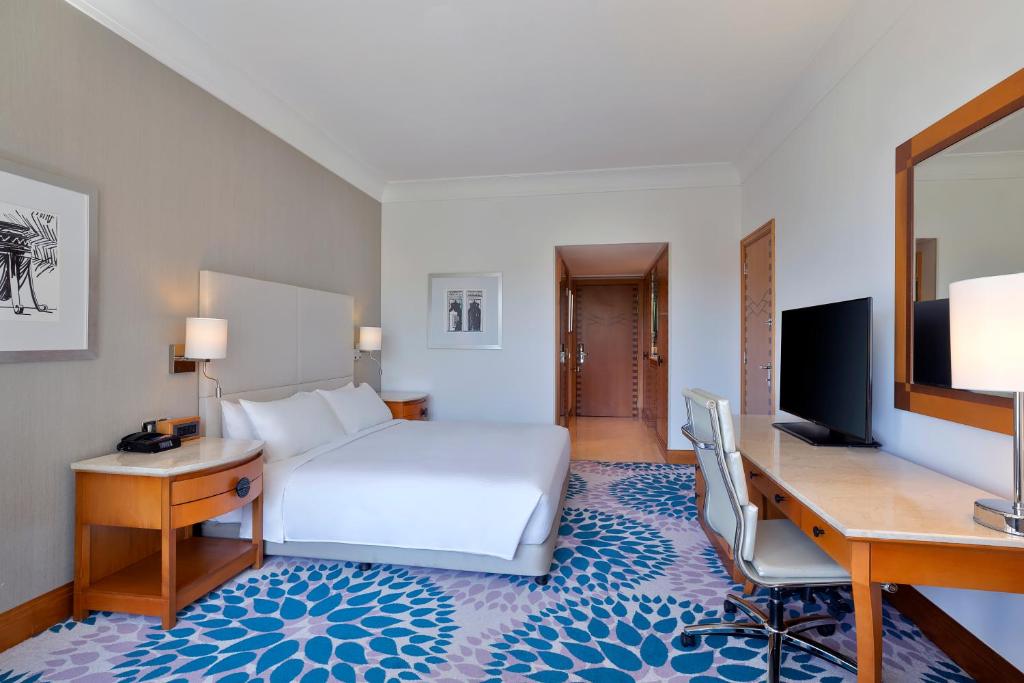 The Hilton Dubai Jumeirah is a luxurious 5-star resort located on Dubai's The Walk at Jumeirah Beach Residence, offering an array of shopping, dining, and leisure activities. Guests can enjoy a tranquil swimming pool surrounded by hotel gardens and a private beach with sun loungers. The lavish rooms feature floor-to-ceiling windows and marbled bathrooms with luxury amenities. Plus, the rooms offer partial or full sea views overlooking the world's largest Ferris Wheel (Ain Dubai). The hotel boasts 12 restaurants, including Vero serving coastal Italian seafood, McGettigan's Irish sports bar and restaurant, and Trader Vic's for a Polynesian treat. Guests can also visit Pure Sky Lounge on the 35th floor or Mango Tree Thai Bistro at the sister hotel for stunning views of Ain Dubai. Additionally, there is a fully equipped gym for fitness enthusiasts and a spa offering rejuvenating body treatments. Families will appreciate the kids' club and playground located right on the beach. Conveniently situated in JBR, the hotel provides easy access to attractions such as Marina Mall and Expo 2020 Pavilion via daily shuttles or walking distance to Dubai Marina Metro Station. Free private parking is available onsite.
Pros:
– Beautiful location along The Walk at Jumeirah Beach Residence
– Private beach with sun loungers
– Numerous dining options including coastal Italian seafood at Vero
– Polynesian treats at Trader Vic's
– Access to additional dining options at sister hotel
Address Downtown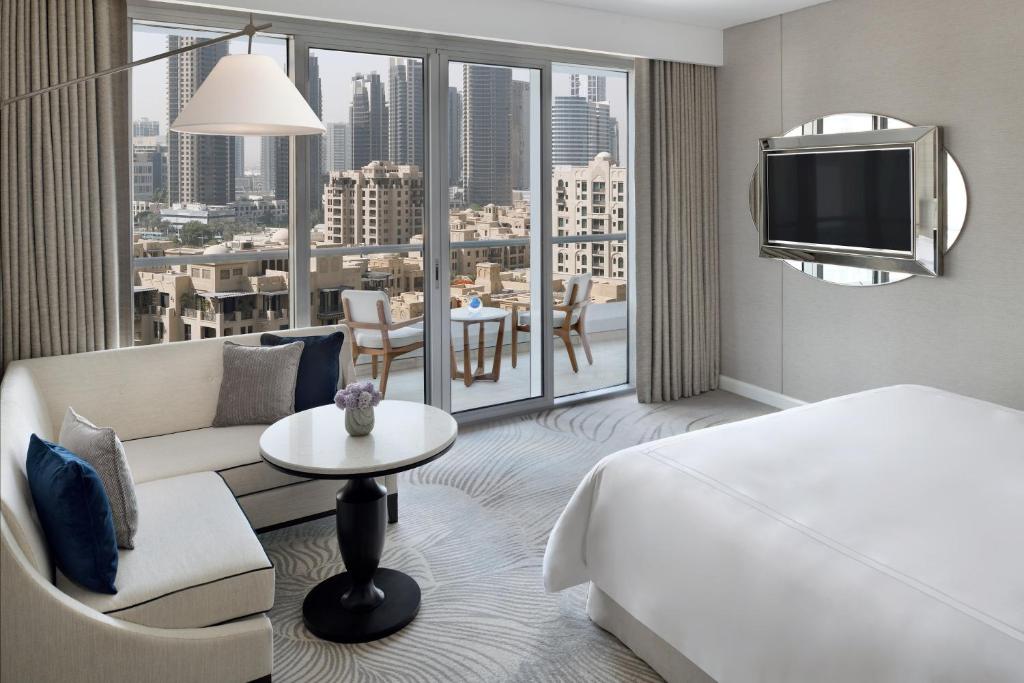 Towering at a height of 302 meters across 63 levels, Address Downtown is an iconic symbol of luxury nestled in the heart of Downtown Dubai. With direct views overlooking The Dubai Mall, the world's largest shopping mall connected by a pathway-bridge, this hotel offers a truly remarkable experience. Boasting state-of-the-art wellness facilities including a Technogym center and an exclusive spa with nine treatment rooms, Address Downtown ensures guests are pampered to perfection. For business travelers, there are versatile meeting rooms and world-class amenities available. Young children will delight in the immersive activities offered at the Qix club. The 220 guest rooms and suites feature high-speed wireless internet access, interactive TVs with Apple AirPlay devices, entertainment interfaces, dressing areas with Hollywood mirrors, and L-shaped sofa seating areas. The marble bathrooms include dual sinks, bathtubs, and rain showers for ultimate relaxation. At Address Downtown, guests can indulge in culinary delights at any of the nine unique restaurant concepts showcasing Asian to Latino cuisines as well as local Middle Eastern specialties. Additionally, they can enjoy breathtaking views of Dubai's ever-changing skyline from the Neos Bar located on the 63rd floor overlooking Dubai Fountain View. Conveniently situated next to Souk Al Bahar, this hotel also provides limousine shuttle services upon request and arranges airport transfers for added convenience. Private parking is complimentary.
Pros:
– Stunning views of Dubai's skyline
– Direct access to The Dubai Mall
– Luxurious and spacious guest rooms
– State-of-the-art wellness facilities
– Variety of exquisite dining options
Rixos Premium Dubai JBR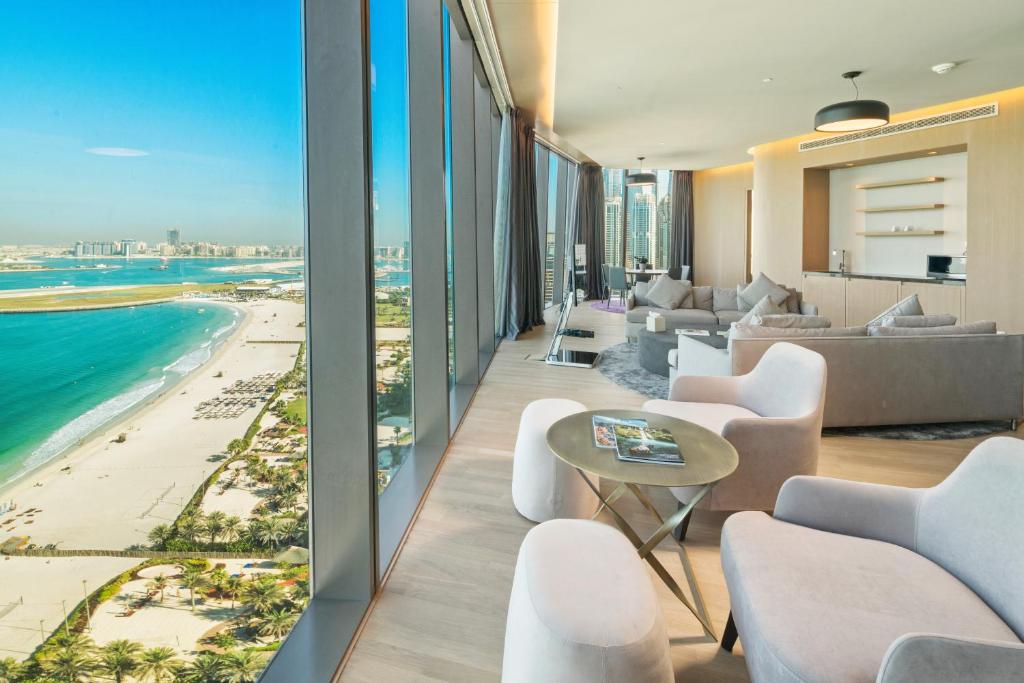 Located directly on JBR beach, Rixos Premium Dubai is a premier lifestyle hotel that offers a seamless blend of vibrant nightlife and tranquil pool and beach ambiance. With an outdoor pool and watersport activities available on the beach, guests can enjoy both relaxation and adventure. The hotel boasts spacious rooms with floor-to-ceiling windows, some of which offer stunning views of the sea or Dubai's skyline. Dining options include authentic Turkish cuisine at Turquoise, modern American steakhouse at STK, and Greek cuisine at Ammos. For entertainment, guests can choose from District, Lock, Stock & Barrel, or the newly opened Godiva Lounge. Those looking to rejuvenate can visit Naturelife Spa with its signature Ottoman hammam and nine treatment rooms. The fully equipped Rixgym fitness center provides stunning views of the Gulf while working out. Additionally, Rixos Premium Dubai is conveniently located near various attractions such as Dubai Marina Mall and Mall of Emirates. Free valet parking is available on-site along with a complimentary shuttle bus to Mall of Emirates.
– Located directly on JBR beach
– Spacious rooms with floor-to-ceiling windows
– Variety of dining options including Turkish, American steakhouse, and Greek cuisine
– Entertainment options like District nightclub or Lock Stock & Barrel
– Rejuvenating spa treatments at Naturelife Spa
Spa hotels in Dubai that offer an adult pool
Dubai's spa hotels cater to adults seeking a serene and relaxed environment with the inclusion of an exclusive adult pool. These luxurious properties provide a tranquil retreat where guests can unwind, rejuvenate, and bask in privacy while enjoying the hotel's exceptional spa facilities.
Atlantis The Royal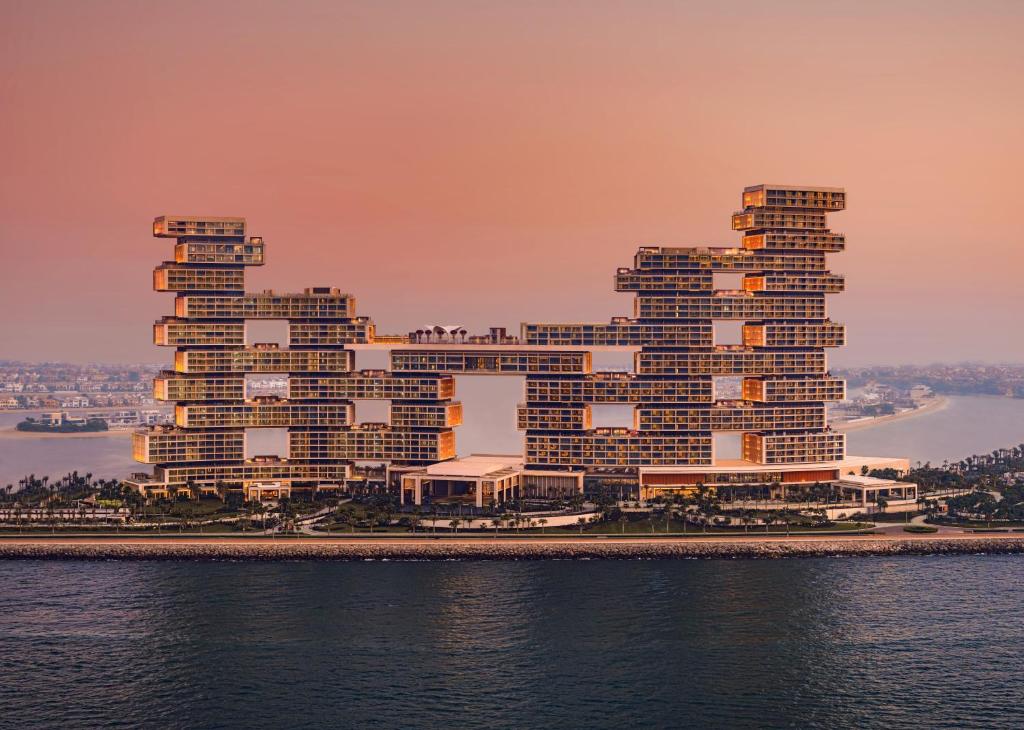 Located on the crescent of the Palm Island in Dubai, Atlantis The Royal is a luxurious resort that opened in September 2019. This 5-star hotel offers an array of amenities and activities for guests to enjoy, including access to Aquaventure Waterpark, the largest waterpark in the Middle East. With a rooftop pool and private beach, guests can relax and soak up the sun while taking in stunning views of the Arabian Sea and Palm Island. The resort also boasts 17 restaurants and bars, nightclubs, a show fountain, outdoor swimming pools, beach clubs,and a state-of-the-art spa. With spacious rooms, suites,and signature penthouses featuring private balconies or terraces with optional private pools,this hotel offers ultimate luxury for its guests. Additionally, Atlantis The Royal is known as a culinary destination in Dubai with its 17 world-class restaurants,serving fine cuisine from celebrity chefs.
Pros:
– Access to Aquaventure Waterpark
– Rooftop pool with breathtaking views
– Luxurious rooms with private balconies or terraces
– State-of-the-art spa for ultimate relaxation
– Culinary destination with 17 world-class restaurants
Nurai Island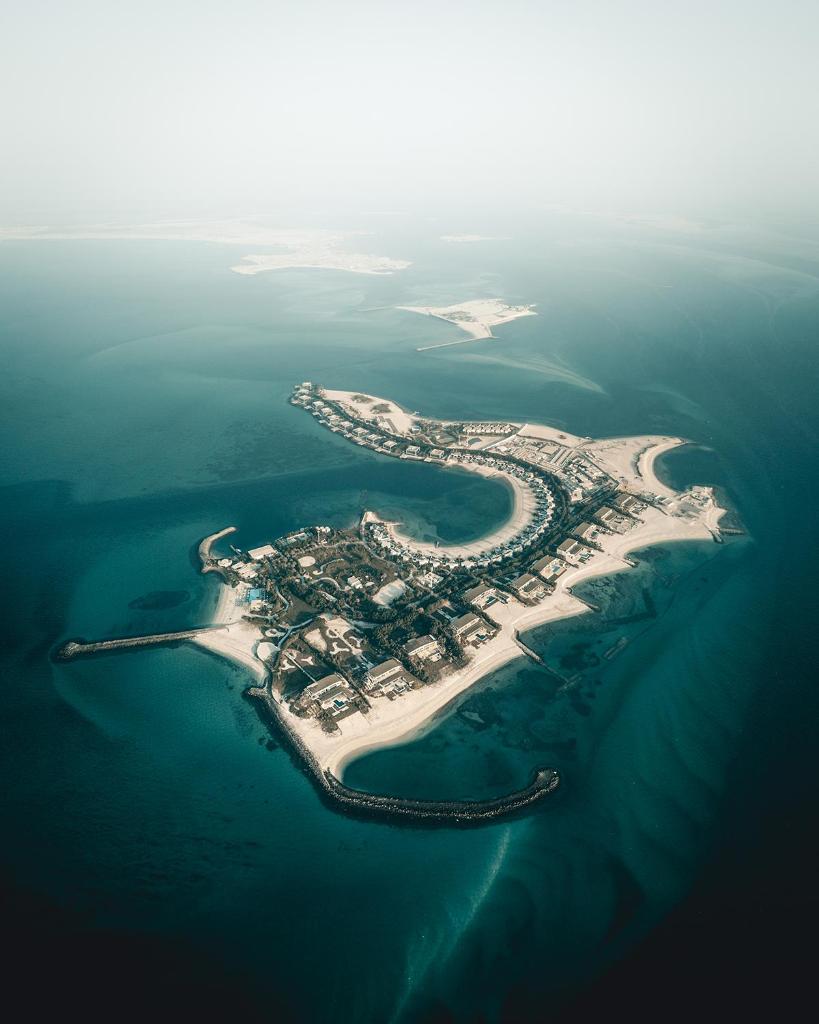 Located along the Arabian Gulf in Abu Dhabi, Nurai Island Resort is a luxurious retreat just a short boat ride away from Saadiyat Island and Downtown Dubai. The resort features contemporary villas that seamlessly blend into the landscape, offering private temperature-controlled pools and floor-to-ceiling windows with stunning views of the Arabian Sea. Guests can indulge in a unique spa experience at the exclusive Nurai Spa, where they can relax while listening to the soothing sounds of the waves. The resort also offers outdoor terraces, spacious living areas, and amenities such as Nespresso machines, soaking tubs, and rain showers. For fitness enthusiasts, individual and group personal training sessions as well as yoga classes are available during picturesque sunrises and sunsets. Meanwhile, younger guests can enjoy their time at the Petit Z kids club. Dining options include Frangipani which serves organic and seasonal produce sourced from local farms for breakfast, lunch, and dinner; as well as Ginger Mermaid offering an exquisite selection of raw sashimi and sushi prepared by expert chefs. Nurai Island Resort is conveniently located just 30 minutes away from Abu Dhabi International Airport.
– Stylish villas with private temperature-controlled pools
– Spectacular views of the Arabian Sea
– Exclusive spa experience at Nurai Spa
– Fitness activities including personal training and yoga sessions
– Fine dining options featuring organic produce
Address Sky View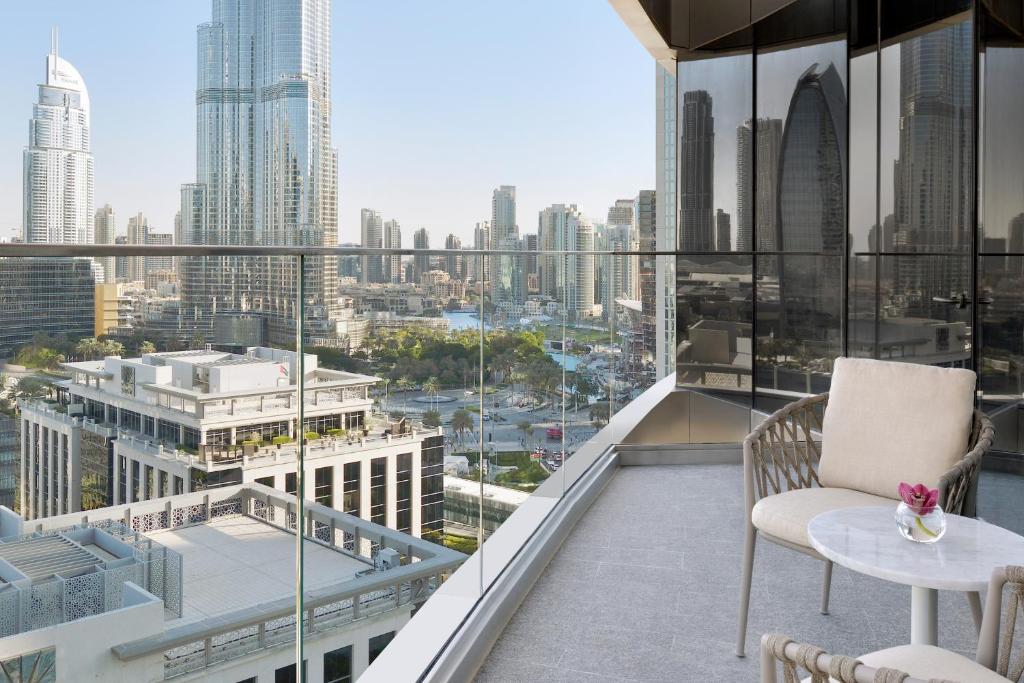 Address Sky View is a luxury hotel located in the center of Dubai. It features air-conditioned rooms with free WiFi, free private parking, and room service. The hotel offers a rooftop pool with stunning views of the city skyline. Guests can also enjoy amenities such as a seasonal outdoor pool, fitness center, sauna, and complimentary bikes. The rooms are equipped with modern furnishings including a desk, flat-screen TV, and private bathroom. Some rooms have balconies with city views. The on-site restaurant serves international cuisine and caters to dietary preferences including vegetarian, gluten-free, and halal options. Guests can start their day with a delicious breakfast that includes buffet, à la carte, and continental choices. The hotel also offers a sun terrace for relaxation. With multilingual staff available 24/7 at the front desk speaking Arabic, English, French, and Hindi languages; guests can receive practical advice on exploring the area's popular attractions such as Burj Khalifa, Dubai Mall, and The Dubai Fountain which are in close proximity to the hotel. Dubai International Airport is conveniently located just 13 km away from Address Sky View.
– Luxury hotel with rooftop pool
– Central location in Dubai
– Free WiFi and private parking
– Seasonal outdoor pool and fitness center
– Multilingual staff at the 24-hour front desk
Romantic Spa Hotels in Dubai
Dubai offers a range of romantic spa hotels that cater to couples looking for a luxurious and relaxing getaway. These hotels boast world-class spas with indulgent treatments and breathtaking views, making them the perfect destination for couples seeking romance and rejuvenation.
Conrad Dubai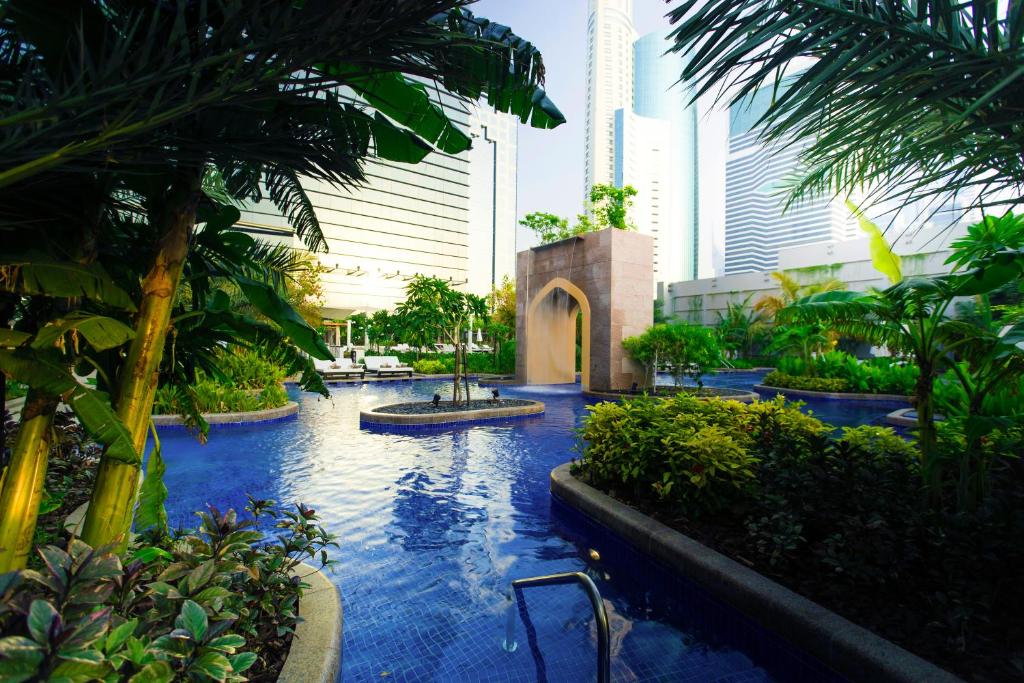 Conrad Dubai is a luxurious hotel located in the heart of Dubai's bustling financial and shopping district. Offering beautifully furnished accommodations, this hotel boasts breathtaking panoramic views of the Arabian Gulf and Sheikh Zayed Road. Guests can indulge in ultimate relaxation at the Conrad Spa, which offers a range of rejuvenating treatments. The hotel also features an outdoor pool and a well-equipped gym for those looking to stay active during their stay. Each suite exudes sleek and modern decor, featuring separate living rooms, Bose® surround sound systems, iPod docking stations, and Nespresso® machines. The bathrooms are equipped with flat-screen TVs, baths, and rain showers for a truly indulgent experience. With multiple dining options available on-site, guests can savor a variety of international flavors at Ballarò or enjoy an extensive selection of wines paired with a modern Parisian menu at Cave. For those seeking healthy eating options, Bliss 6 Urban Oasis offers delicious choices while Kimpo provides Korean street food with a Brooklyn-meets-Seoul warehouse vibe. Conveniently located just moments away from Dubai World Trade Centre and within a short drive from Dubai International Airport, Conrad Dubai is perfect for both business travelers and leisure seekers alike. In addition to offering free valet parking on-site, the hotel also provides a complimentary shuttle bus service to La Mer beach – making it easy for guests to soak up some sun and enjoy the sand between their toes.
– Stunning panoramic views of the Arabian Gulf
– Luxurious accommodations with sleek modern decor
– Conrad Spa offering indulgent treatments
– Multiple dining options showcasing international flavors
– Complimentary shuttle bus service to La Mer beach
Information about Spa Hotels in Dubai
| | |
| --- | --- |
| 🛏️ Spa Hotels in Dubai | 10 |
| 💵 Hotels Prices From | $189 |
| 💰 Average price | 818 |
| ⭐ Number of Hotels Reviews | 700 |
FAQ
What are some popular spa hotels in Dubai?
Dubai is home to numerous luxury spa hotels that offer unparalleled pampering and relaxation. Some of the most popular ones include the Burj Al Arab Jumeirah, which boasts a stunning spa offering traditional Middle Eastern therapies, and the Atlantis The Palm, known for its opulent spa facilities overlooking the Arabian Gulf.
What amenities can I expect at a spa hotel in Dubai?
Spa hotels in Dubai are renowned for their world-class amenities. Expect to find luxurious treatment rooms, state-of-the-art fitness centers, swimming pools, Jacuzzis, saunas, steam rooms, and even private beach access. Many spas also offer an extensive menu of beauty treatments and wellness programs to cater to your every need.
Are there any signature treatments unique to spas in Dubai?
Yes, many spas in Dubai offer signature treatments that showcase local traditions and ingredients. One example is the Arabian Date Ritual where you can indulge in a full-body exfoliation using crushed dates followed by a soothing massage with aromatic oils. Another unique experience is the Camel Milk Bath that nourishes your skin with this precious ingredient known for its moisturizing properties.
Can I enjoy spa facilities without staying at a spa hotel?
Yes! In fact, most luxury spas in Dubai welcome day visitors who wish to experience their exceptional facilities without having to book a room. You can simply purchase a day pass or make a reservation for specific treatments or services you desire. This allows you to enjoy all the benefits of a relaxing spa day while exploring other accommodations options in the city.
What makes Dubai an ideal destination for spa enthusiasts?
Dubai offers an unrivaled blend of modern luxury and ancient traditions when it comes to spas. With its opulent surroundings and top-notch service standards, you can expect nothing but utmost indulgence during your stay. Moreover, the city's thriving wellness industry ensures access to a wide range of treatments that cater to different preferences and needs. Whether you seek relaxation, rejuvenation, or holistic healing, Dubai's spa hotels will exceed your expectations.
Popular Spa Hotels destinations